Back To Blog
Morehouse College to Share in a $2 Million Gift from Ralph Lauren Corporate Foundation
December 15, 2021
ATLANTA—Morehouse College will share in a $2 million gift contributed by the Ralph Lauren Corporate Foundation to support new scholarships for Black students at 12 historically Black colleges and universities (HBCUs). The Ralph Lauren Corporate Foundation contribution aligns with and builds on Ralph Lauren Corporation's commitments to address systemic racism and racial injustice by creating more pathways for equity within the fashion industry and beyond, beginning with education.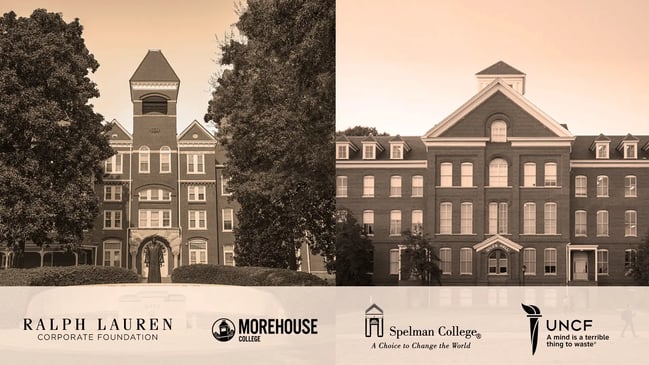 In addition to Morehouse, Ralph Lauren Corporate Foundation scholarships will also benefit students at Spelman College and 10 other HBCUs over a five-year period. In collaboration with the United Negro College Fund (UNCF), the 10 institutions will be selected using several criteria, including current unmet funding needs, enrollment rates, proximity to Ralph Lauren Corporation's U.S. operation centers, and institutions that have disciplines and curricula that foster careers in the retail industry. Each scholarship will encourage community service participation.
"Students represent the best of the human spirit – passion, curiosity, and boundless dreams," said Ralph Lauren, Executive Chairman and Chief Creative Officer of Ralph Lauren Corporation. "When all students have an equal chance to succeed, their dreams become realities and inspire us all."
"The Ralph Lauren Corporate Foundation works to make the dream of a better life a reality by championing equity and investing in historically underserved communities," said Roseann Lynch, Ralph Lauren Corporation's Chief People Officer and Head of the Ralph Lauren Corporate Foundation. "Our hope is that these scholarships will deepen pathways of access to education for our future leaders and help enable them to pursue their own dreams."
Morehouse College President David A. Thomas said the generous gift from the Ralph Lauren Corporate Foundation will help deserving students to pursue their academic and career goals. Approximately 60 percent of rising Morehouse Men come from families with a household income of $40,000 or less. Morehouse, founded in 1867, is the only HBCU dedicated to educating and developing men to be leaders.
"Morehouse has a common cause with partners like the Ralph Lauren Corporate Foundation who believe that equity begins with education," said Thomas, Ph.D. "Through educational investments, which help elevate the creativity and professional competence of talented students of color, we today empower the innovators who will develop the fashions, products and services the world will demand tomorrow."
"We are delighted that the Ralph Lauren Corporate Foundation is expanding its partnership with UNCF and increasing its investment this year to provide more scholarships for African American students," said Dr. Michael L. Lomax, president and CEO, UNCF. "African American communities remain disproportionately impacted by the lack of resources needed to go to and through college. Recognizing that need, the Ralph Lauren Corporate Foundation is fueling our ability to move the needle further for deserving, talented students who want to earn degrees, but just lack the resources to do so."
The scholarship commitment supports institutions whose values are aligned with those of both Ralph Lauren Corporation and the Ralph Lauren Corporate Foundation — including dreaming of and pursuing excellence, committing to inspiring and enacting meaningful social change, and a devotion to compassion for and service of others.
As a part of Ralph Lauren Corporation's Global Citizenship and Sustainability goals and its commitment to building a diverse, inclusive, and equitable culture, the Company's work with HBCUs also includes facilitating career pathways for Black talent through internship, recruitment, mentorship, and development programs — efforts that are deepening as partnerships with educational institutions and external organizations evolve.
Additionally, in November, the Company launched the Ralph Lauren Pin of Solidarity to consumers in North America. Created by Ralph Lauren's Black Advisory Council, the pin is intended to be a tangible, timeless symbol of allyship with Black communities. One hundred percent of the profits from the sale of each pin will be contributed to the Company's separate UNCF Ralph Lauren Scholarship Program. The Ralph Lauren Corporate Foundation is also an annual sponsor of the UNCF Walk for Education.
"I would like to thank the Ralph Lauren Corporate Foundation and the Ralph Lauren Corporation for supporting the education of rising Morehouse Men," said Monique Dozier, Vice President of the Office of Institutional Advancement at Morehouse College. "This investment expands Ralph Lauren's partnership with the Morehouse community and is a symbol of our shared commitment to improving equality, equity, employment opportunities, and access to higher education for people of color."
For more information about Morehouse College, visit morehouse.edu.