Back To Blog
Morehouse College's King Collection Honored With Governor's Award
October 12, 2018
The Morehouse College Martin Luther King Jr. Collection has received a 2018 Governor's Award for the Arts and Humanities for its work to preserve more than 13,000 artifacts showcasing the life and legacy of King.
The award was presented by Georgia Gov. Nathan Deal and First Lady Sandra Deal in partnership with the Georgia Council for the Arts, which provides grant funding, programs, and services that support creative expression and the preservation of cultural heritage statewide.
"Georgia is a state that values creativity and prizes artistic innovation," Deal said as he congratulated the honorees. "Sandra and I have long been supporters of our state's vibrant arts culture. Today, our state's creative industries provide some 200,000 jobs for Georgians and generate $62.5 billion in economic impact. These critical sectors serve as catalysts for community revitalization and local economic development while also fueling tourism and spurring innovation."
King Collection Director Dr. Vicki Crawford and Morehouse President David Thomas attended the ceremony and accepted the Governor's Award on behalf of the College. Morehouse was one of 10 recipients to receive the honor.
"The Morehouse College King Collection is a national treasure that provides insight into the thoughts and writings of Martin Luther King Jr. as he developed as a student, a minister, and a preeminent civil rights leader who captured world recognition with his nonviolent protests against racial injustice and segregation," Thomas said. "At Morehouse, we are committed to sharing King's philosophy and work with the public."
The King Collection, which is housed in the AUC Robert W. Woodruff Library, represents much of King's life and work spanning from 1944 to 1968, including his strategic planning of the civil rights movement. The Collection features hundreds of handwritten notes, famous and lesser-known speeches, manuscripts, sermons, and other writings of unparalleled historical significance that are available for public viewing by appointment. It also includes approximately 1,100 books from King's personal library, a telegram from President Lyndon B. Johnson inviting King to the signing of the Voting Rights Act, credit card receipts, travel coupons, a briefcase, and correspondence to other famous civil rights leaders, including Andrew Young, Reverend Joseph Lowery, and Walter Fauntroy.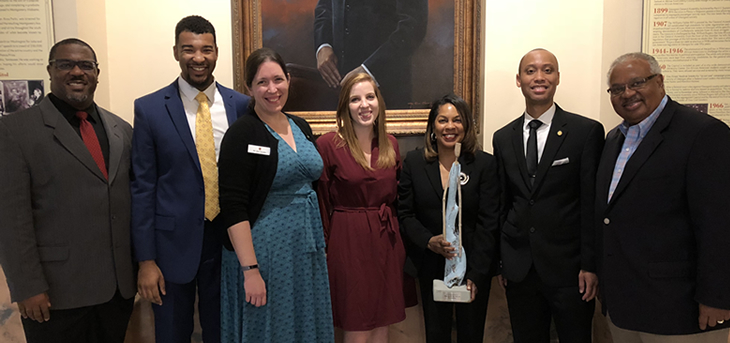 "The Morehouse King Collection provides an invaluable opportunity to explore the impact of King's global leadership through the prism of his own words and ideas," Crawford said. "The Collection is viewed by many people each year, from scholars and researchers to school groups and others interested in King's writings and personal example. Through our research and public programming, as well as community initiatives and annual observances, we recognize the relevance of King's ideals and philosophy as we confront the challenges of our 21st-century world."
The Governor's Awards were presented at the Georgia State Capitol on Oct. 9, 2018. The other honorees were: Athens Ciné of Athens; Friends of Historic Jekyll Island; James S. Crisp of Macon; Janice Faircloth of Thomasville; Ellen Thompson of Dalton; and Historic Oakland Foundation, National Black Arts Festival, Pearl Cleage, and Azira G. Hill, all of Atlanta.
The Georgia Council for the Arts (GCA) is a division of the Georgia Department of Economic Development that works to cultivate the growth of vibrant, thriving Georgia communities through the arts.
For more information about the King Collection at Morehouse College, visit www.morehouse.edu/kingcollection/index.php