Back To Blog
President David A. Thomas and 13 Alumni Among the Most Influential Black Corporate Directors
November 2, 2021
If you need proof that Morehouse prepares Black men for global leadership, just ask the editors of Savoy magazine, who this week named 13 alumni and President David A. Thomas, Ph.D. to its listing of the Most Influential Black Corporate Directors. The "elite" listing of Black professionals who serve as governing authorities for some of the most powerful international corporations reflects a dramatic rise in Black board membership appointments over the past year— a 32% gain. Among other board roles, President Thomas serves as a director on the boards of DTE Energy and Vanguard. Morehouse alumni are helping to lead Fortune 500 companies like ADM, Booz Allen Hamilton, Newell Brands, and Northwestern Mutual, as well as many other organizations.
Savoy is a quarterly, national magazine covering the power, substance, and style of African American lifestyle.
"These innovative trailblazers have led efforts to foster growth for some of the country's highest-performing companies throughout and beyond the US market," said L.P. Green, II, CEO, and publisher of Savoy.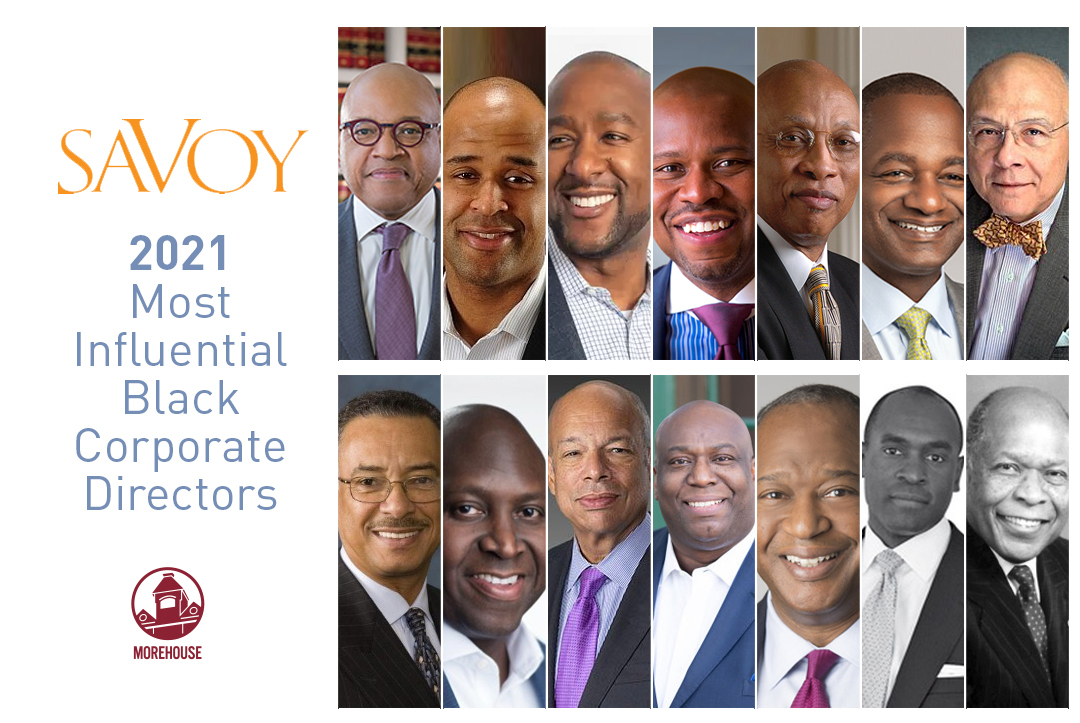 Morehouse Men, including two former cabinet secretaries, sit on numerous corporate boards where they are influencing an array of industries:

As corporate directors, President Thomas and Morehouse alumni have helped steer the global economy through the pandemic. They have also helped their companies become more culturally adaptable and recruit a more diversified workforce— both of which are critical to success in today's marketplace. While having Black directors is simply the right thing to do because they are highly-skilled leaders with diverse perspectives, it also creates a competitive advantage for companies smart enough to leverage their expertise in innovation and reaching disparate societies. It is a sentiment promoted by the board members themselves— 87% of directors said board diversity enhances board performance and 76% said it enhances company performance, according to PwC's 2019 Annual Corporate Directors Survey. However, with almost half of boardrooms devoid of people of color, there is much more work left to do. Black board directors make up just four percent of the nation's 3,000 largest companies.