Back To Blog
Morehouse Cross Country Earns its 26th SIAC Men's Cross Country Championship
November 16, 2023
With its 26th Southern Intercollegiate Athletic Conference championship, the sheer dominance that Morehouse has exterted on its cross country peers is unprecedented.
Led by Head Coach Willie Hill and alumnus and Associate Head Coach and Recruiting Coordinator Christopher Doomes '93, the Morehouse Cross Country team speedily won this year's conference title, held at Middle Georgia State University in Macon.
In the 8k team results, the Maroon Tigers came in 1st with a time of 2:20:55 and an average time of 28:11 and with a score of 24. Benedict would come in 2nd with a score of 85 and timed at 2:33:16.
Men's 8k Run Results
1. Brian Kemei 25:23.3
2. Ronny Kiprono 28:04.0
3. Taylor Battle 28:29.9
6. Christian Pearson 28:55.7
12. Jordan Ellul 29:50.8
13. Jermiah Alibey 30:03.4
14. Gavin Weddington 30:19.2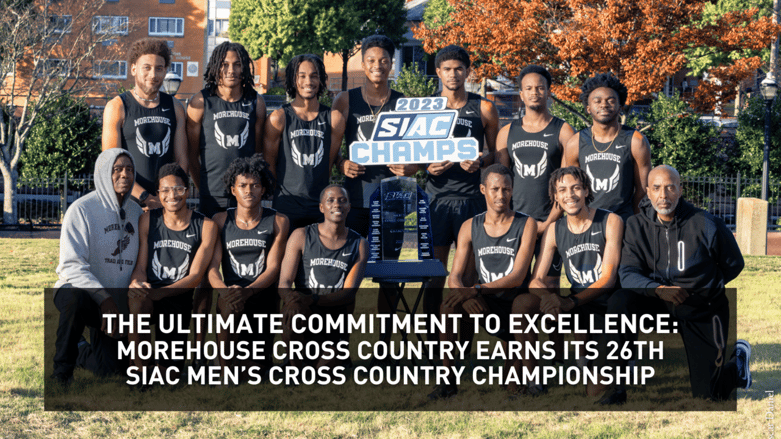 "It is wonderful to deal with and work with such great men." said head coach Willie Hill. "These young men truly represented Morehouse in the way they needed too. They gave it their all and got the victory but not only for themselves but for Morehouse. To have four guys place in the top 10 and all seven to finish in the top 14 is truly the greatest accomplishment."
Coach Doomes, a former standout champion runner noted "This year's team could've easily allowed injuries the passing of a teammate and host of other challenges to prevent us from achieving our goals, but they didn't. They understand the importance of representing Morehouse. Our culture is a direct representation of our leader, Coach Willie Hill. God is the foundation, Morehouse is who we are!" He went on to say "Coach Hill doesn't allow anything to take away from being the best for Morehouse. We speak about character and responsibility every day. Our young men chose Morehouse for the academics and to be a part of our program. They want to be the best in class and in our program."
Coach Doomes was referring to the passing of Christion Files, a former Morehouse student athlete, and a member of the cross country team who died in September.
Coach Doomes also referred to the successful program's culture that Head Coach Willie Hill has built over the years that has manifested double digit championship seasons for the cross country as well as the track and field teams. That same culture has also helped Coaches Hill and Doomes develop outstanding student athletes who have gone on to lead successful lives as productive members of society; a hallmark of the program.
Last weekend, qualifying members of the championship team participated in the NCAA Division II South Region Cross Country Championships at University of Montevallo.

Overall, Morehouse came in 13th place with a score of 375.

SIAC individual Cross Country champion Brian Kemei '26 made the NCAA All-Region Team with a 10th place finish, with an overall time of 30:46.3.

The Maroon Tigers will be traveling to Jolin, MO on November 18th for the NCAA DII National Championships, where we all wish them the absolute best. Stay informed about the progress of the team and all of Morehouse's varsity athletic programs by visiting athletics.morehouse.edu.