Back To Blog
If a black congressman dies in the Trump era, does it make a tweet?
March 19, 2020
A Tale of Two Funerals
On October 17, 2019 Rep. Elijah Cummings died at the age of 68. The online reaction (aka Twitter) was enormous. Tweet after tweet proclaimed what a great man he was, what an icon of the civil rights movement, what a heroic congressman, and what a tremendous loss this was for the nation. This cycle of public grief is generally reserved for celebrities – Prince, Whitney Houston, Carrie Fisher, etc. At first glance, a long-serving black Congressman from Maryland does not belong in that category. I was left baffled, "How have all of these people ever heard of Elijah Cummings?"
As a case in point, on October 27, 2019, Former Rep. John Conyers died at the age of 90. Conyers is the longest serving black member of Congress in the nation's history. He was the first person to introduce legislation to create a national holiday honoring Martin Luther King Jr.; he was one of the founding members of the Congressional Black Caucus; he served as either chair or ranking member of the House Judiciary committee since the 1990s; and he consistently introduced legislation on reparations from 1989 until 2017. The online reaction to Conyers's death fit much more in line with my expectations for an important member of Congress – a Kanye shrug.
-Cummings became the first black member of Congress to lay in state at the Capital Rotunda.
-Conyers laid in state at a funeral home in Detroit.
-Cummings received a state funeral that was attended by every major figure in the Democratic Party – including a eulogy by Barack Obama.
-Conyers was eulogized by Bill Clinton and Jesse Jackson. Barack Obama did not attend.
To be clear, I am not saying that Elijah Cummings was not worthy of these accolades. Nor am I saying that John Conyers received less than he deserved. I am saying that the reaction to Cummings's death was extraordinary.
Is Elijah Cummings the most important black man to ever serve in Congress?
If our criteria for determining the importance of congressmen is 1) having a biblical first name; and 2) having a last name that rhymes with "strumming", then yes. By any other criteria, not so much. My research is on black agenda setting – how and why does Congress pay attention to black issues? A major part of that work has been coding every bill introduced by every black member of Congress from 1972 to 2016. This allows me to measure how much of a member's legislative work is geared towards black issues.Table 1 lists the top ten black members of Congress in terms of the average number of black bills introduced per year.
Top 10 Sponsors of Black Issue Bills
| | | | | |
| --- | --- | --- | --- | --- |
| Member | Black | Antiracist | Welfare | Culture |
| Hawkins, Augustus F. | 5.00 | 0.33 | 4.67 | 0.00 |
| Rangel, Charles B. | 3.27 | 0.59 | 1.82 | 0.86 |
| Leland, G. T. (Mickey) | 3.09 | 0.91 | 2.00 | 0.18 |
| Conyers, John, Jr. | 2.91 | 1.36 | 0.91 | 0.64 |
| Jackson-Lee, Sheila | 2.86 | 1.86 | 0.50 | 0.50 |
| Obama, Barack | 2.75 | 1.00 | 1.25 | 0.50 |
| Veasey, Marc | 2.50 | 1.25 | 1.25 | 0.00 |
| Ellison, Keith | 2.40 | 0.50 | 1.90 | 0.00 |
| Nix, Robert N. C. | 2.33 | 0.17 | 0.50 | 1.67 |
| Wilson, Frederica | 2.17 | 0.33 | 1.67 | 0.17 |
Out of the 114 black people who served in Congress during this time period, John Conyers ranks fourth. Elijah Cummings does not make the top ten. In fact, Rep. Cummings is the literal median – he ranks 57th out of 114. It seems odd that a middle of the pack advocate for black issues would become the most honored black member of Congress.
Everything is always about Trump
Why was there such an extraordinary reaction to the death of this seemingly ordinary member of Congress? As in all things since January 2017, the answer comes back to President Donald Trump. The figure below shows the google trends data for Rep. Cummings (black line) and Rep. Conyers (red line) from January 2016 to December 2019.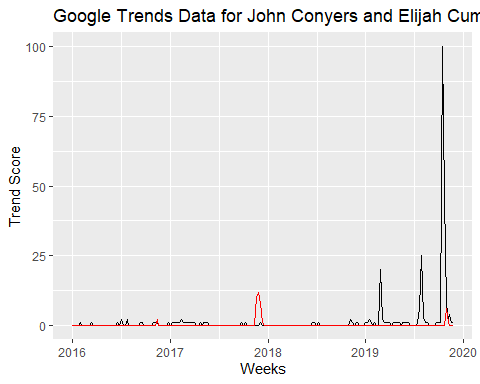 The figure confirms what we already knew:
-Most people do not care about random members of Congress most of the time.
-There is a tremendous spike on searches for Elijah Cummings during the week of his death.
-The spike after the death of John Conyers pales in comparison.
We also learn some new things:
-The peak in interest for John Conyers is related to the sexual harrassment scandal that forced him out of office in December 2017.
-Elijah Cummings received a surge in interest when he chaired the Oversight Committee's hearings on Michael Cohen.
-Cummings received a second surge when President Trump publicly disparaged him and his congressional district.
Trump distorts everything in our current politics. Rep. Elijah Cummings was cast in a starring role in 2019's Trump drama. His role as a completely ordinary black member of Congress was forgotten. Instead, his legacy is as a hero of the #Resistance. John Conyers's career as an extraordinary member of Congress (at least in terms of black agenda setting) never received much attention. He was cast as another villain in the world of #MeToo.
In reality television there are heroes and villains. Each contestant's screen time is dependent upon their proximity to those heroes and villains. In the Trump Era, the same logic applies to members of Congress.
(Photo credit: @mjb, Creative Commons)
______
Matthew B. Platt is an associate professor of political science at Morehouse College.