Back To Blog
Morehouse Moot Court Team Secures Victory at Eastern Regional Competition
November 20, 2023
The Morehouse College Moot Court Team has achieved resounding success at the American Moot Court Association's Eastern Regional Tournament. Daxton Pettus '25 and Caleb Cole '25, the dynamic duo representing Morehouse, recently emerged victorious at the competition hosted at Fitchburg State University in Fitchburg, MA.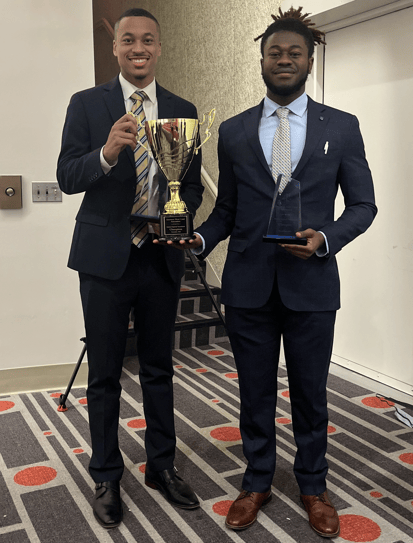 In a momentous triumph, the Morehouse team demonstrated unparalleled skill and legal acumen, surpassing opponents from renowned institutions such as the University of Pennsylvania and Boston College. This exceptional win propels Morehouse into the semi-finals scheduled for January, a significant accomplishment that will showcase the team's knowledge on the national stage.

Morehouse College remains the sole HBCU with an undergraduate Moot Court team. This victory solidifies the College's standing as one of the country's top 5 Moot Court programs, an accolade that sets the institution apart in the competitive legal education landscape.

Congratulations, Daxton and Caleb! This win is a testament to the dedication and hard work of the entire Moot Court Team. We can't wait to witness your continued success on the journey to the January semi-finals.