Back To Blog
Roderick E. Edmond '83 inducted into the Gate City Bar Association Hall of Fame
November 7, 2023
Physician and attorney Roderick E. Edmond '83 was recently inducted into the Gate City Bar Association Hall of Fame, honoring his lifetime achievements and extraordinary career.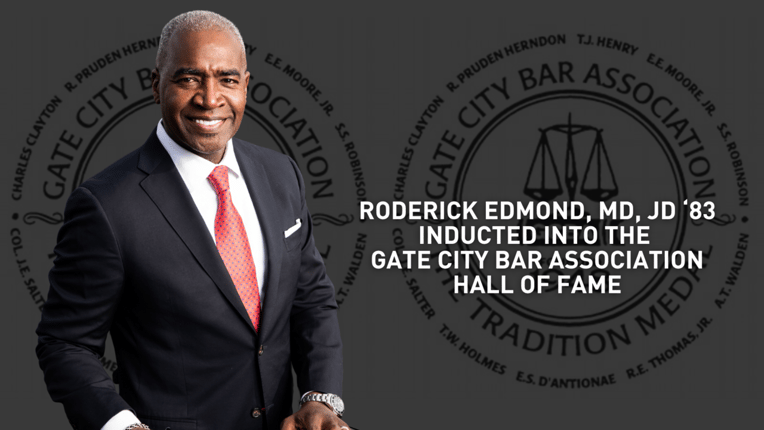 Established in 1948, the Gate City Bar Association is the oldest African American Bar Association in the State of Georgia, and was organized by ten African American lawyers (including two Morehouse graduates Charles Clayton and Roscoe E. Thomas) to provide the educational, social and community involvement of a professional association for African American lawyers, who had been excluded from participating in the segregated bar associations in Atlanta and throughout the State. The 2023 President of the GCBA is 2003 Morehouse alumnus, attorney Kevin Coleman.
Dr. Edmond is the founding and managing partner of the law firm Edmond & Lindsay, LLP. He concentrates his legal practice in the area of plaintiffs' wrongful death and catastrophic personal injury, namely medical malpractice, nursing home negligence, product liability and other cases involving disastrous injuries. He has successfully litigated hundreds of personal injury cases and has recovered hundreds of millions of dollars for victims of negligence.
After earning his B.S in Biology from Morehouse, he earned his medical degree from Duke University in 1987 and completed post-graduate training in general surgery at Beaumont Army Medical Center in El Paso, TX. Her served five years as a physician and a captain in the United States Army. During his last three years on active duty he served as a staff physician at the Pentagon in Washington. While practicing medicine at the Pentagon, Dr. Edmond attended law school at night at the Georgetown University Law Center, where he earned his juris doctorate.
Dr. Edmond has published articles in medical journals and is an active speaker on the subjects of medical and medical-legal issues. As an active member of the community Dr. Edmond has contributed to numerous initiatives including social issues and causes, political campaigns and mentoring programs for underprivileged youth.
Click here to learn more about Dr. Edmond and his practice.