Back To Blog
The Higher Education in Prisons [AYC-HEP] Program at Morehouse College
September 11, 2023
What began as a fledgling higher education in prisons initiative in 2020 has quickly become a full-fledged program in the Andrew Young Center at Morehouse College. Morehouse faculty presently teach college-level classes at Metro Reentry Prison in Dekalb County, Burruss Correctional in Forsyth County, and the US Federal Penitentiary in Fulton County.
Over this past summer, Morehouse faculty taught five college-level courses in prisons: Dr. Nathaniel Norment taught his signature course titled "Writing Our Personal Narratives," Dr. Robert Edwards taught a literature class, Dr. Justin McClinton (' 13) led a book club featuring two of Professor Daniel Black's recent books (i.e., Don't Cry for Me and Black on Black), Ms. Hope Hilton taught art history, and Dr. Stephane Dunn taught creative writing for storytelling in several genres, including script form. This semester, Professor Winfield Murray, Esq. (' 98) is teaching a course on the history of the US Constitution, Dr. McClinton is teaching a class in creative writing, Mr. Rodney Walker (' 14) is teaching a workshop on entrepreneurship, Dr. Gerald Young is teaching a class on social justice leadership, and Dr. Kipton Jensen is teaching a course in philosophy. Over the past several years, 18 AYC-HEP teaching affiliates have taught classes in prisons. This past month, Dr. Norment received the 2023 "Volunteer of the Year" award at the US Federal Penitentiary in Atlanta. Whether we're talking about our students in prisons or our students at Morehouse, argues Professor Norment, the emancipatory effect of higher education is compelling: "If you have knowledge of yourself, knowledge of your history, knowledge of your culture, it empowers you."
In a recent promotional video, Dr. Stephane Dunn claims that teaching at Metro Reentry "was one of the most extraordinary experiences I have had as a professor in my life. The thing that was so remarkable to me at the end of the day was how much it affected me. You go in thinking about how you're going to make an impact. You want to make an impact but are nervous you won't. And then you come out, and you realize you're the one who probably got the greatest gift."
In the same video, Mr. Farah Shaheed, who studied with Professor Murray at Burruss, states, "Education is definitely a deterrent to crime." The national rate of recidivism is 76.6%. But for those who gain access to a college-level education, the rate is drastically reduced: 13.7% for those who receive the equivalent of an associate's degree and 5.6% for those who receive a bachelor's degree. (And for those students who complete the cycle of humanities courses associated with Common Good Atlanta, which began in 2008, recidivism rates are less than 1%.) These statistics are important, but the incarcerated students we teach are more than numbers: they are brothers, fathers, husbands, fellow citizens, and future leaders.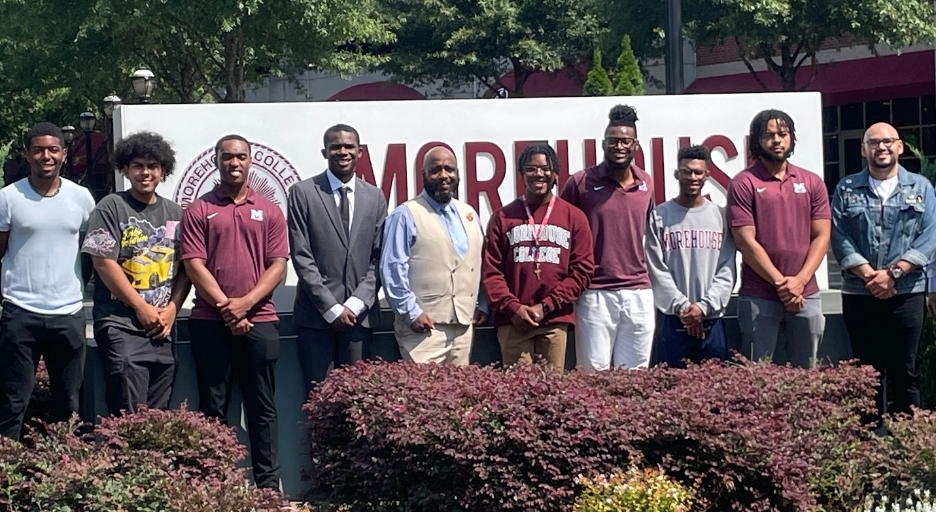 The AYC-HEP program is pleased to announce the second cohort of 2023/2024 student ambassadors (left to right in the photo above): Mr. Myles Tucker ('26), Mr. Khyler McAlpine ('27), Mr. Adian Patterson ('26), Mr. Omari Whiting ('26), Mr. Thishin Jackson ('25), Mr. Kaylon Charles ('26), Mr. Calvin Bell III ('24), Mr. Jyhir Jordan ('26), Mr. Tristin St. John ('25), and Mr. William Wasson ('26). The inaugural cohort of AYC-HEP assisted Morehouse faculty in prisons, served on panels, participated in conferences, and advocated for prison education at the Georgia Capitol. The AYC welcomes Ms. Pamela Winn, founder of RestoreHER, a policy advocacy reentry organization led by and for justice-involved women of color, as our 2023/2024 scholar-in-residence; last year, Mr. Rodney Spivey-Jones, who graduated from the Bard Prison Initiative, served as our AYC-HEP scholar-in-residence (see here and here).
For more information about the AYC-HEP program, visit our website and follow our social media platforms on Twitter and Instagram.