Back To Blog
DR. ROBERT DIXON '64 SERVING AS THE INTERIM PRESIDENT OF RUST COLLEGE IN HOLLY SPRINGS, MS
November 7, 2023

Rust College Board of Trustees announced the appointment of Dr. Robert M. Dixon '64, who was the Interim Vice President for Academic Affairs, as the college's Interim President.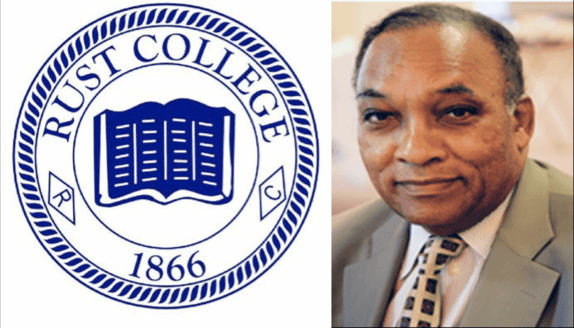 As a physicist who has arguably trained more African American physics undergraduates than anyone else in the country, Dr. Dixon has worked as a faculty member and administrator at a half-dozen HBCUs (including Morehouse College) over more than 5 decades. Serving as a provost, vice president, dean, department chair, professor, and as a director of a private sector engineering firm, Dr. Dixon brings a wealth of higher education knowledge in management, teaching, fundraising and research. His extensive administrative experience in education and business has given him insight into the major problems and significant differences encountered in managing academic and business organizations.
Dr. Dixon earned his undergraduate degree in Physics and Mathematics from Morehouse in 1964. He then went on to earn his master's degree in Nuclear Physics in 1966 from Rutgers University and his Doctor of Philosophy degree in Theoretical Nuclear Physics from the University of Maryland in 1977.
Dr. Dixon would return to Morehouse in 1986 to join their faculty where he experienced great success winning a $7.3 million grant from a U.S. Department of Defense (DOD) program designed to strengthen undergraduate science at HBCUs. Dixon used the money to create the Center for Excellence in Science, Engineering, and Mathematics (CESEM) at Morehouse which provided scholarships and intensive academic and career guidance to students seeking a degree in the natural sciences, math, and engineering. The CESEM also served as a pipeline program for prospective Morehouse students looking to major in STEM fields and served as a recruitment tool to help boost undergraduate enrollment.
Dr. Dixon has maintained an active interest and involvement in the field of teacher education through his consulting work with various public-school systems in different parts of the country. A published author, he has engaged actively in research in nuclear reactions and has taught both college and graduate level physics courses.
"I am proud to lend my talents and expertise to such a historic and prestigious institution such as Rust College. I look forward to following in the traditions of past exceptional leaders who have served this institution during its 157 years," said Dr. Dixon.
Click here to read the full press release.