Back To Blog
Morehouse Honors the life and legacy of richard roundtree
October 25, 2023
Richard Roundtree, a revolutionary actor and 2016 Candle Honoree for Lifetime Achievement in the Arts and Entertainment, has left an indelible mark on the world of cinema and the representation of African-American actors on the big screen. He has transitioned at the age of 81, leaving behind a legacy that will be remembered for generations to come.
Roundtree's most iconic role was that of John Shaft in the groundbreaking 1971 film, "Shaft." This film marked the beginning of the "Shaft" series, a significant milestone in cinematic history. "Shaft" was not just another action movie; it was a trailblazer, breaking with convention by introducing the world to the African-American action hero. In an era when action hero roles were predominantly reserved for white actors, Roundtree's portrayal of John Shaft shattered these stereotypes and created a new paradigm for diversity in Hollywood.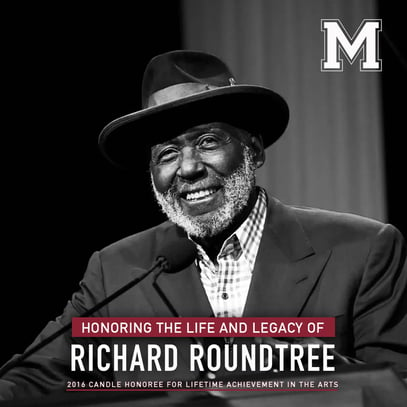 Over the span of a remarkable career for more than 50 years, Roundtree accumulated over 150 credits in both television and film. His work represented a powerful shift in the way African-American characters were portrayed in mainstream cinema.
Dr. Stephane Dunn, a filmmaker and professor of the Cinema, Television & Emerging Media Studies program at Morehouse College, eloquently noted that "[Richard Roundtree] was more than just a character in "Shaft." He embodied and helped visualize the ethos of the Black Power movement on screen, demonstrating what Black agency could look like." In an industry where diversity and representation were often lacking, Roundtree's presence and performances were a beacon of hope and empowerment for African-American actors and audiences alike.
Throughout his career, Roundtree took on a wide range of roles that showcased his versatility and acting prowess. He not only contributed to the action hero genre but also left an indelible mark in various other genres, from drama to comedy. His enduring impact on the entertainment industry and his dedication to breaking down barriers for Black actors continue to inspire and influence new generations of performers.
Richard Roundtree's passing is a loss for the entertainment world, but his legacy will forever serve as a testament to the power of representation and the enduring impact of a lifetime dedicated to the arts and entertainment. His contributions will be celebrated, remembered, and cherished by all those who continue to be inspired by his groundbreaking work on and off the screen.