Back To Blog
HBCU Athletic Investments Continue as Morehouse College Commemorates the Reopening of its Renovated Football and Track & Field
August 23, 2022
Morehouse College, the nation's only college dedicated to educating and developing men of color, announced today the reopening of its B.T. Harvey Stadium and the Edwin C. Moses Track and Field amongst benefactors, alumni, and advocates of the College and Morehouse Athletics. In attendance were trustee emerita Billye Aaron, who donated $1 million to the renovation; Morehouse alumnus and former world-recording holding Olympic gold medalist Edwin Moses; and NFL Hall of Famer Willie "Honeybear" Lanier as well as many corporate and nonprofit executives, members of the Olympic and professional athletics former Morehouse athletes, and the current Morehouse community. The Edwin C. Moses Track and B.T. Harvey Field renovation is one of several construction projects that will be funded by Morehouse College's historic $500 million "Making Men of Consequence" Campaign. One of the four pillars of the campaign is "Building the Campus of the Future," which will provide funds dedicated to high-tech academic and athletic facilities for the Men of Morehouse. The upgrades will modernize the campus's infrastructure, promote learning, and reinforce the College's ability to produce exceptional leaders who excel on a global stage.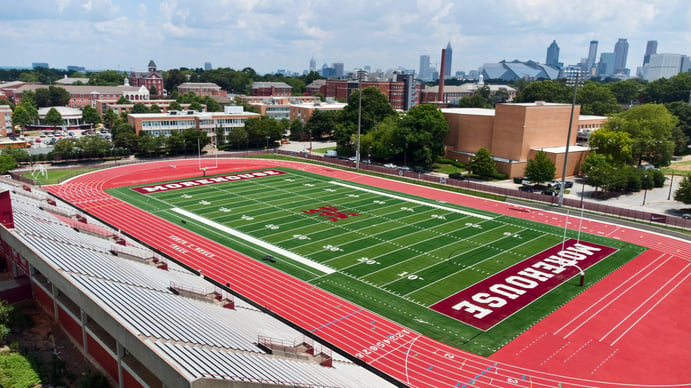 The Edwin C. Moses Track was updated with a top-of-the-line Beynon surface, while the running lanes and jump runways were expanded from 42-inches to 48-inches. The throwing events were relocated to the south football endzone and are outfitted with artificial turf, which allows Morehouse host track and field conference, regional, and national championship competitions. For the B.T. Harvey Stadium football field, the addition of artificial turf eliminates the deterioration that occurs with a grass field. FieldTurf installed a state-of-the-art turf field with a built-in cooling system that will benefit all student-athletes practicing and competing in the heat.
Trustee Emerita Billye Aaron, the wife of the late Hall of Famer Hank Aaron, contributed $1 million to the football, track and field renovation project to improve athletic facilities for scholar athletes at Morehouse College as a part of Willie Lanier's "HBCU Field of Dreams Program," an initiative to raise $50 million over the next three years to install state-of-the-art playing surfaces at nearly three-dozen HBCU football stadiums nationwide to make them more comparable to professional fields.
"For more than 155 years, Morehouse College has produced men of distinction who have become outstanding leaders and community servants," said Aaron. "Several of those men played sports either for the College or to stay healthy and foster their competitive spirit. It is important to me, as a former Morehouse Trustee, that rising Morehouse Men have modern athletic facilities to use as they develop their talents and pursue excellence in their future careers."
Morehouse College played its first football game at B.T. Harvey Stadium in 1983. Over the years, the program has won seven championships and produced a host of scholar athletes who graduated and became leaders in their chosen professions and communities. Eight alumni also became NFL players.
Additionally, in a successful history that dates to the 1930s, the Morehouse Track and Field and Cross-Country program have been the most dominant program in the Southern Intercollegiate Athletic Conference. Since 1991, the Maroon Tigers Cross Country teams have won an astounding 23 conference championships, while the Morehouse Track and Field team have won 18 titles since 1991.
"HBCUs have a legacy of producing outstanding graduates, including athletes who have used their platforms to speak out against racial injustice," said Dr. David A. Thomas, president of Morehouse College. "Our athletic spaces must continue to be worthy of the legacy of excellence established by the pantheon of athletes that have competed on them. On behalf of Morehouse College and the Board of Trustees, I would like to thank Trustee Emerita Billye Aaron, the Field of Dreams Program, and the Tarkett Sports Company for their partnership. We are committed to providing our students with competitive facilities that strengthen their ability to grow and develop as athletes and scholars."
Morehouse College Athletics is a member of NCAA Division II and the Southern Intercollegiate Athletic Conference. The College offers eight competitive sports—football, basketball, golf, tennis, baseball, track & field, and cross country—with the daily goal of providing academic, athletic, physical, and mental training and enrichment in the support of the College's mission to educate and develop men, while also in pursuit of championship-level athletic participation.
For more information about Morehouse College, visit morehouse.edu.