Back To Blog
Healthcare Industry Innovator Justin Bayless Donates $1.5 million to Morehouse College
November 22, 2021
ATLANTA—Healthcare industry trailblazer Justin Bayless, Chief Executive Officer of Bayless Integrated Healthcare, has contributed a $1.5 million gift to Morehouse College to support student scholarships and faculty development at the nation's only historically Black liberal arts college for men.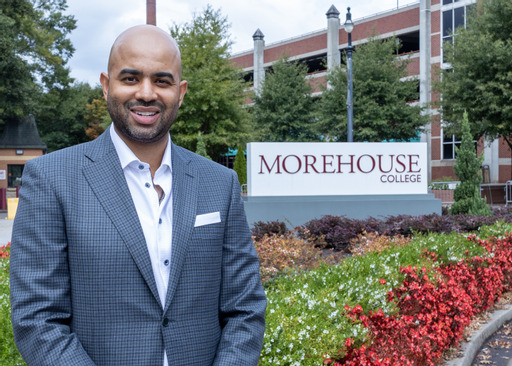 A 2007 graduate of Morehouse, Bayless credits his alma mater for helping him to succeed in business. During Bayless' senior year, he was recruited to work on Wall Street as an investment banker at Morgan Stanley. Bayless later returned to his Phoenix, Ariz. hometown in 2008 to use his background in accounting and marketing to transform his family's mental health clinic into a group of integrated medical care centers that served as early pioneers of telemedicine.
"Justin Bayless is an example of exactly what we prepare Morehouse Men to become–innovative industry pioneers who achieve success by disrupting the status quo, and then use their acquired resources to give back to their communities," said David A. Thomas, Ph.D., Morehouse College President. "By investing in Morehouse to empower our faculty and students, he is helping to create the next generation of trailblazers who will bring forth transformative change."
Bayless Integrated Healthcare currently has more than 250 clinicians providing virtual care and nine locations serving more than 200,000 patients annually in the Phoenix area. Its comprehensive approach to wellness, addressing the mind and body as equally important, has improved patient outcomes, lowered costs, and attracted a strategic investment from Magellan Health, the nation's largest publicly traded behavioral health company (NASDAQ: MGLN).
"Many of us who start out working in Corporate America don't have a pathway to think about how to become entrepreneurs," Bayless said. "One of the ways that I would like to give back to Morehouse is by supporting the college and students with business ideas who'll bring their products to market and build something in their own communities that can create a wealth opportunity for themselves."
Morehouse announced last summer that the College has begun to develop a new Center for Black Entrepreneurship to expand business instruction and give students more opportunities to learn about entrepreneurship as part of their academic course of study. Bayless' gift will support the initiative and faculty training.
Bayless' generous donation is also funding the new Bayless Family Student Success Scholarship at Morehouse, which will create a pipeline of talented students interested in opening their own businesses. The scholarship, available to rising sophomores, pays for tuition, room, and board for students who maintain a 3.5 GPA and major in business administration or economics.
"When I was a student at Morehouse, I was awarded the Presidential Scholarship and did not have any stress related to my financial needs at college. I was able to focus solely on my studies," said Bayless, who is a past president of the Morehouse College Business Association and was the first sophomore to be inducted into the prestigious Phi Beta Kappa Honor Society. "To me, it's important to pay it forward. The students who receive Bayless scholarships will not have to work to pay for college or worry about not having enough money to complete their degrees."
Four sophomores were selected to be in the inaugural class of Bayless Scholars. The group includes a business owner, a community organizer, and an athlete. The recipients are: Aylon D. Gipson, an economics major from Montgomery, Ala; George Lester III, a finance major and economics minor from Austell, Ga.; Kamar Montgomery, an economics major and political science minor, from Roswell Ga.; and Kasai Rogers, an economics major and Chinese minor from Washington, D.C.
"I cannot say enough to thank Mr. Bayless for what he has done for me, as well as my family," said Lester III, a Bayless Scholar with a 4.0 GPA who plans to pursue a career in investment banking as Bayless did after graduation. "Mr. Bayless has given me yet another reason to hold myself accountable and pursue excellence in all things that I do."
Rogers, another Bayless Scholar with a 4.0 GPA, said he was inspired by Bayless' success as a healthcare industry innovator. Modern Healthcare Magazine named Bayless as one of the year's "Top 25 Emerging Leaders" in 2021. The list lauds healthcare industry executives who have shown financial, operational, and clinical excellence early in their careers.
"I've been interested in business and entrepreneurship ever since I started a T-shirt brand in the ninth grade," said Rogers. "As a rising Morehouse Man, I hope to meld my passion for business with my focus on social justice. I want to help build companies in the future that are committed to diversity, equity, and inclusion, and leading positive change in marginalized communities."
Bayless is also funding stipends for Bayless Fellows to receive intensive co-curricular instruction and support from the Morehouse College Innovation and Entrepreneurship Center, the College's ongoing outreach that provides access to entrepreneurship training and capital for business owners and future business owners across the metro Atlanta area. Bayless fellows receive $1,000 stipends per semester to learn about launching, managing, marketing, and financing new ventures. They also work on improving their business plans and concepts. MIEC has trained the leaders of 236 underserved businesses through its consulting cohorts, which are offered several times each year. Its work has resulted in the creation of over 476 new jobs.
According to the U.S. Census Bureau's recent Annual Business Survey, only 18% of all businesses in the nation are minority-owned. Georgia is trending ahead of the nation in the number of Black-owned businesses as more Black entrepreneurs enter the Atlanta marketplace. The percentage of Black-owned businesses rose from 6.1% in 2017 to 6.6% in 2018. Nationally, the percentage of Black businesses remained static at 2.1% during the same years.
"As people of color, owning and operating our own businesses is an ultimate economic opportunity that we need more of," Bayless said. "Supporting Morehouse College will foster the creation of wealth for a new generation of enterprising Morehouse Men with the courage to venture out on their own."