Back To Blog
Jakai McCoy '27 embarks on a new Path of Leadership and Brotherhood at Morehouse College
October 2, 2023
From the vibrant streets of New Orleans, Louisiana emerges an extraordinary young man ready to embark on a transformative journey at Morehouse College. Jakai McCoy steps onto Morehouse's hallowed grounds with enthusiasm for leadership and personal growth.
Jakai's decision to join the Morehouse family was deeply rooted in the sense of brotherhood on the campus. Recounting his first visit, he reminisces, "The brotherhood stood out to me. It was nothing but love, and I got that 'got to have it's feeling when I went on the tour." This connection drew him in, solidifying Morehouse as his destined home for the next chapter of his academic journey.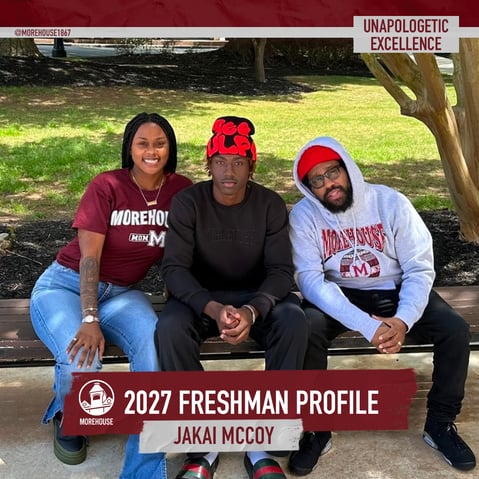 Jakai sets his sights on a dual pathway of finance and pre-law, showcasing his determination to bridge the gap between two distinct yet interconnected fields. With aspirations of becoming a civil lawyer or a sports management agent, he plans to leverage his education to make a meaningful impact within the legal and sports industries.
Jakai's high school years were a testament to his dynamism and dedication. He thrived in sports as the basketball team captain, quarterback for the football team, and a formidable presence on the baseball field. Beyond athletics, his involvement in the Black Culture Club underscored his commitment to celebrating diversity and unity.
To Jakai, leadership reflects authenticity—a willingness to stay true to oneself despite the world's influences. He defines a leader as someone who forges their path, unswayed by others' actions or opinions. "Someone who creates their footprints instead of following someone else's," he adds, capturing the essence of trailblazing leadership.
Jakai's inspiration comes from within his own family, particularly his father, PJ Morton '03. He acknowledges his father's embodiment of the saying "hard work pays off," a guiding philosophy that has instilled in him the power of determination and the ability to overcome challenges. As a supportive Morehouse alumnus, his father has provided encouragement and a living example of the potential a Morehouse education holds.
With his unique blend of determination, passion, and a heart attuned to brotherhood, Jakai sets a remarkable tone for his journey at Morehouse College. As he steps into this new chapter, he carries his aspirations and dedication to making his mark as a leader, scholar, and inspiration to those around him.
Welcome to the House, Jakai!