Back To Blog
Morehouse College Maintains Top 5 HBCU Ranking While Breaking into Top 100 Liberal Arts Colleges Nationally
September 18, 2023
Morehouse College advanced 24 spots to No. 100 among Liberal Arts Colleges nationwide, according to U.S. News & World Report 2024 rankings. Maintaining its top five ranking among historically Black colleges and universities, the College has made a concerted effort to increase competitiveness among liberal arts colleges and other selective institutions through strategic investments in administrative leadership, academic programming and professional partnerships in industries such as business and entrepreneurship, finance, education, study abroad, and new student programs.
Additional national rankings for Morehouse College among National Liberal Arts Colleges include:
No. 20 in Best Undergraduate Teaching nationwide, improving three spots; No. 1 among HBCUs in Georgia that men can attend.
No. 20 in Top Performers on Social Mobility nationwide, improving nine spots; No. 1 among HBCUs men in Georgia can attend.
No. 6 business program in Georgia; No. 1 among HBCUs in Georgia.
Morehouse College has grown its executive leadership across the administration and academic affairs, including the addition of
new athletic director, NBA veteran and alumnus Harold Ellis and new chief advancement officer, Hodan Hassan, who will carry out the College's ambitious $500 million capital campaign, which has acquired over $230 million to date. In partnership with Spelman College and the Black Economic Alliance, the Center for Black Entrepreneurship was launched and appointed Dr. Grant Warner as executive director to increase the pipeline of Black entrepreneurs, connect them to investment opportunities, and provide access to a robust network of business leaders and investors as mentors to better navigate the structural challenges Black entrepreneurs traditionally face when setting out to launch and sustain a business. Morehouse also received $1 million from JPMorgan Chase to support the growth of Black businesses in the metro Atlanta area and launch a cohesive regional network for organizations dedicated to serving entrepreneurs of color to build generational wealth. Additionally, the College became the new home of the Ida B. Wells Society for Investigative Reporting, co-founded by Pulitzer Prize-winning New York Times reporter Nikole Hannah-Jones and focuses on increasing and retaining journalists and editors of color in the field of investigative reporting. The Society appointed Dr. Robbie Morganfield, formerly of North Carolina A&T State University, as its executive director.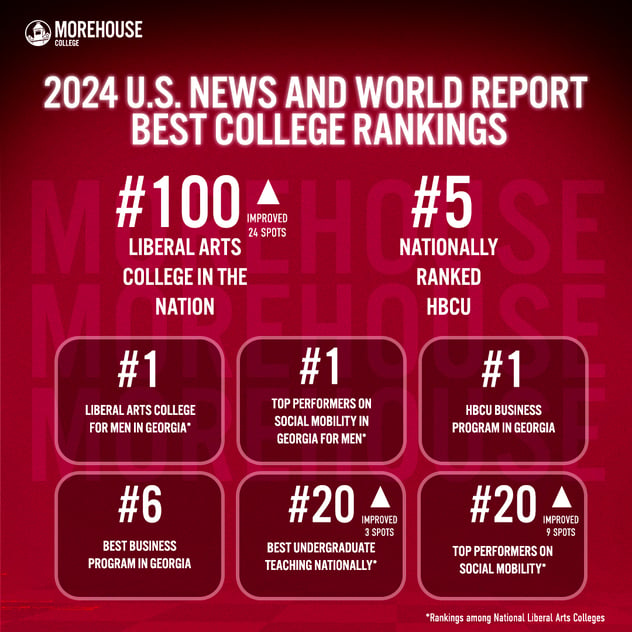 The College's Andrew Young Center for Global Leadership continues to honor and extend the legacy of Ambassador Andrew Young by addressing social challenges in the Atlanta community, the nation and abroad by creating educational experiences that prepare Black men for lives of leadership and service – ultimately, expanding Morehouse's influence beyond the confines of a traditional campus setting. Through the Center's Higher Education in Prisons Program, Morehouse faculty and student ambassadors offer humanities courses and college-preparatory seminars as well as host book clubs to over 180 incarcerated students at Georgia prison facilities such as the Metro Reentry in Dekalb County, Burruss Correctional in Forsyth County, and the Downtown Reentry Program in Fulton County. Additionally, the Center is the home of Morehouse's international education program, providing over 120 global experiences for students and faculty within the last year, including experiences in Ghana, Nigeria, South Africa, Spain, Germany, Ireland, Italy, China, Japan, and many more.
For more information about growth and innovation at Morehouse College, visit morehouse.edu.