Back To Blog
Morehouse College Receives $1 Million Grant from JPMorgan Chase to Grow Black Businesses and Launch Atlanta Metro Regional Network of Business Servicing Organizations
June 6, 2023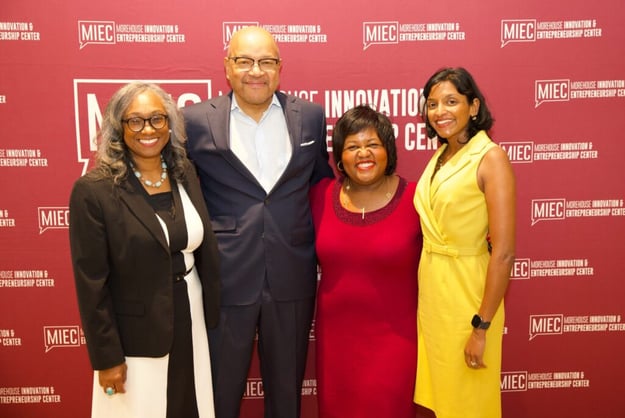 The JPMorgan Chase commitment will fund an expansion in the MIEC's Small Business Executive Certificate Program, which will help more Black entrepreneurs access the technical support that they need to scale their businesses successfully. In addition, MIEC will partner with JPMorgan Chase to establish the Atlanta Small Business Ecosystem Hub (E-Hub), a new initiative that will spur collaboration between business servicing organizations in the metro Atlanta region. E-Hub will help entrepreneurs of color and women-owned enterprises to better understand and navigate the growing landscape of local assistance available to them.
On June 6, 2023, MIEC invited representatives of eight minority business servicing organizations to campus to begin talks on building uniformity, sharing best practices, identifying partnerships, and establishing collective strategic priorities for serving minority entrepreneurs throughout metro Atlanta. Alicia Wilson, the new managing director and global head of philanthropy for the North American region of JPMorgan Chase, will be in attendance for the inaugural E-Hub event.
"It is a great time to have this conversation about how we effectively grow Black businesses," said Dr. Tiffany Bussey, director of the Morehouse Innovation and Entrepreneurship Center. "This innovative approach puts Morehouse College and JPMorgan Chase at the intersection of research and practice. Morehouse having a lead in this conversation will help us to start collecting data that we can share with other states that are proactively working to grow businesses of color."
Georgia is trending ahead of the nation in the number of Black-owned businesses as more Black entrepreneurs enter the Atlanta marketplace. The proportion of Black-owned businesses in the metro area is 7.4 percent—more than double the national average—making Atlanta the epicenter for Black entrepreneurship. Nevertheless, even with more than 8,660 Black-owned businesses growing on fertile ground in the metro area, there is still room for improvement. No metro area in the United States has a share of Black-owned businesses that exceeds its African American population. (Nationally, only 3 percent of U.S. firms are owned by Black entrepreneurs. Black adults make up 12.4 percent of the country's population and have the lowest median household income of any racial group.)

"Atlanta is a vibrant and exciting city, full of creative and energetic entrepreneurs and business owners who are driving the city's growth and economic prosperity. By working with Morehouse, we believe we can help more diverse-owned small businesses succeed," Wilson said. "Through E-Hub, we can give businesses access to technical assistance for business imperatives like supply chain and procurement, access to capital, and connection and collaboration opportunities. We look forward to helping fuel the success of Atlanta's Black-owned businesses and sharing their stories of success."
JPMorgan Chase is a global leader in the financial services industry that serves some of the world's top corporations, governments, and institutions in more than 100 countries. The multinational banking institution is also committed to helping small businesses flourish by providing them with greater access to technology, business planning, capital, expertise, and mentorship opportunities. In 2018, JPMorgan Chase launched a philanthropic initiative to invest $1.75 billion in philanthropic capital around the world by 2023.
JPMorgan Chase's grant to Morehouse College brings its total investment in the MIEC to $2.6 million in six years. In 2017, MIEC partnered with JPMorgan Chase to launch Ascend Atlanta, a technology startup and small business support pre-accelerator ecosystem that served 125 minority-led companies throughout the metro area.
"We appreciate this grant because it will help us to continue to do the important work that we have been doing since 2017 with Chase in helping to grow businesses of color in the Atlanta metropolitan area. We have touched 364 small businesses and assisted them in gaining 338 new contracts leading to 781 new jobs and access to $32.9 million in capital. These businesses have also, with our assistance, added $66.6 million in revenue," Bussey said. "This is long-term work that we hope will attract future gifts from more partners."
Morehouse President David A. Thomas, Ph.D., adds that the expanded MIEC and JPMorgan Chase partnership will not only improve growth opportunities for Black businesses in metro Atlanta, but it will also benefit Morehouse students who have an entrepreneurial mindset. "Entrepreneurship is essential to job growth and the creation of wealth that can improve economic conditions in struggling communities," Thomas said. "The work that we are doing to expand training and investment in entrepreneurship at Morehouse College will lead to an increase in scalable businesses being started by students who have come through one of our programs. It will also lead to greater participation by rising Morehouse Men in all parts of the ecosystem that supports business ownership and development. We appreciate JPMorgan Chase's contribution and continued partnership in helping Morehouse to elevate its role as a springboard to successful entrepreneurship."
Tag(s):
Featured
,
morehouse college
,
Business
,
Entrepreneurship
,
News Post
,
Innovation
,
Center for Black Entrepreneurship
,
news
,
Education
,
higher education
,
DEI
,
Equity
,
Partnerships of Purpose